Why Not Have a Year Long Honeymoon?
The Great American Road Trip!
Brittany and Matt work remotely to take a year long adventure!
Brittany DeBrizzi is a wonderful, talented, strong woman, whom we have been lucky enough to have known and worked with for many years. Brittany is an amazing art director/graphic designer/beach volleyball player who recently married her longtime beau and super cool dude Matt. The newlyweds decided to forgo the traditional honeymoon and opted for a year long adventure, touring the United States and Mexico in their new custom home - a van that can take them just about anywhere! Here is their story about why they made this brave decision to dive outside their comfort zone, quit their jobs, live in a van and choose adventure over societal norms. We say BRAVO and are completely inspired by these two!
Here's their story...
Making the decision to travel long term for our honeymoon was easy. Honestly, who wouldn't want to take a 6 to 12 month long honeymoon? Making it a reality was an entirely different beast. We knew we wanted to do something different, something outside the "norm", something that would make our families question our thought process while at the same time be secretly jealous.
We talked about everything from traveling in a sailboat to doing a few months in Australia. Since we had zero sailing experience, we ruled that out pretty quickly. And our fur child, Huey, quickly put the idea of doing a long term trip to Australia to bed. Feeling a little defeated, we debated just going on a typical week long honeymoon to some cliché beach location. Then return and sign up for a 30 year mortgage and start popping out the grand babies that both sides of our parents hoped for. Now don't get us wrong, a nice home and a large family is definitely in our future, but farther in our future.
We went back to the drawing board and were inspired by two close friends, Amanda and Ash. They had already traveled through New Zealand and Australia in a caravan and were planning their honeymoon road trip in an RV they bought off craigslist. They planned to travel the United States and Canada for 4 months after their wedding. We quickly fell in love with the idea and if you searched #vanlife on instagram, I'm sure you would too! Taking an extended road trip around the US, Mexico, and Canada fulfilled all of our honeymoon desires. We'd get our adventure and we could bring our pup along for the ride.
With the decision on what to do for our honeymoon made, we had to start working on making it a reality. We were now planning our wedding and our life changing journey at the same time. We decided that we wanted to build out our own van and customize it to fit what we wanted. We searched for months for the perfect van. Driving to countless dealerships and doing hours of online searching with no results. It took about 3 months to find the vehicle we were looking for.
We finally found our perfect van, (better known as Barb) in May and our wedding date was in October. With both of us working 40+ hours a week we had 24 weekends to get our van ready to hit the road. Without a doubt the build process was one of the most challenging tasks we have taken on in our lives. Second most challenging, planning a wedding. Why not do it at the same time? This was probably the best self-administer premarital counselling you could ask for. We saw each other hit the rock bottom and we built each other back up.
Besides putting together the occasional Ikea furniture piece, we have never really built anything before. Luckily we are not the first people to convert a van into a tiny home on wheels. YouTube is littered with van build videos and there are tons of blogs out there that document the process. The one I found most useful was FarOutRide.com, their build journal made our lives a hell of a lot easier.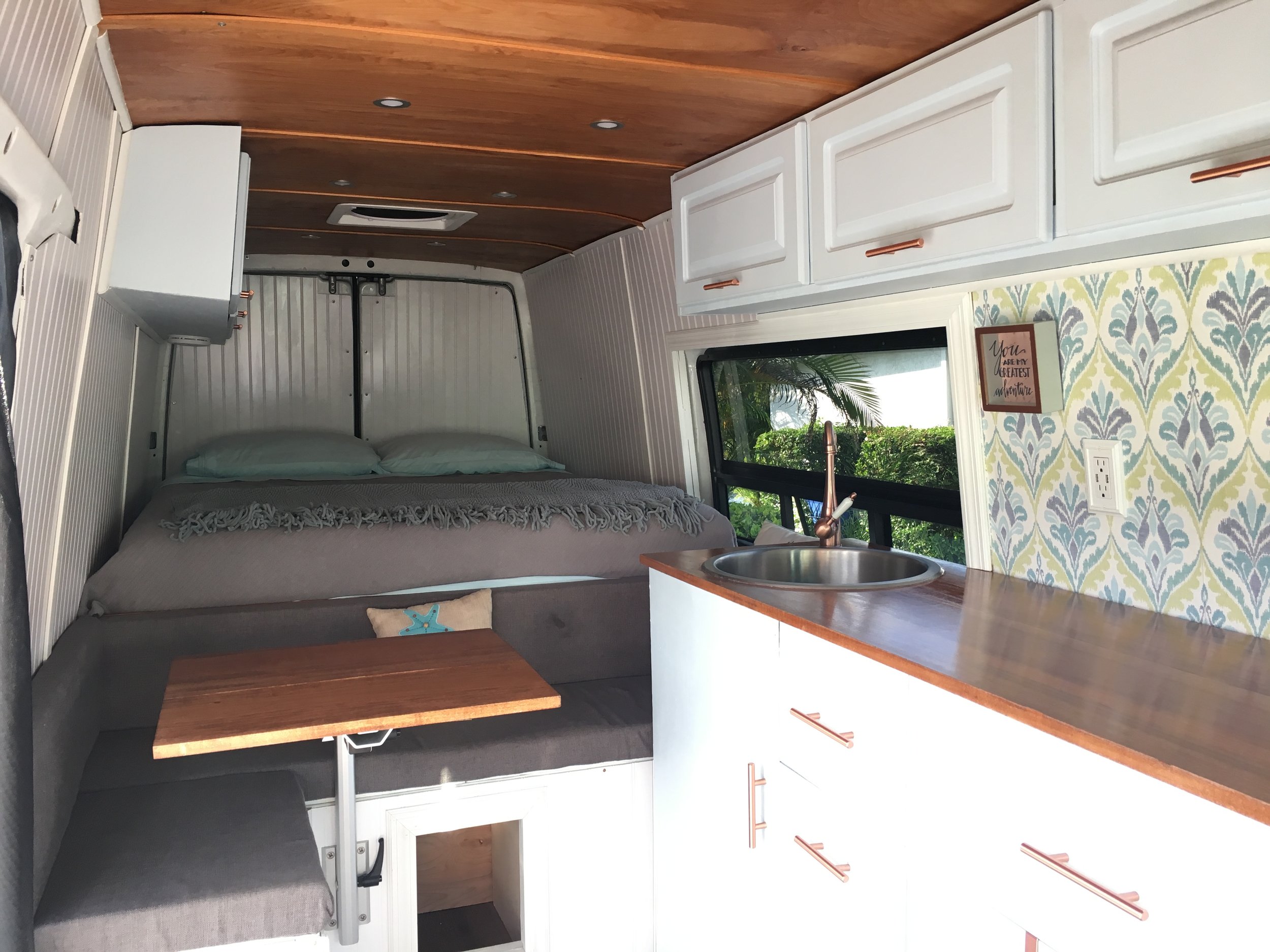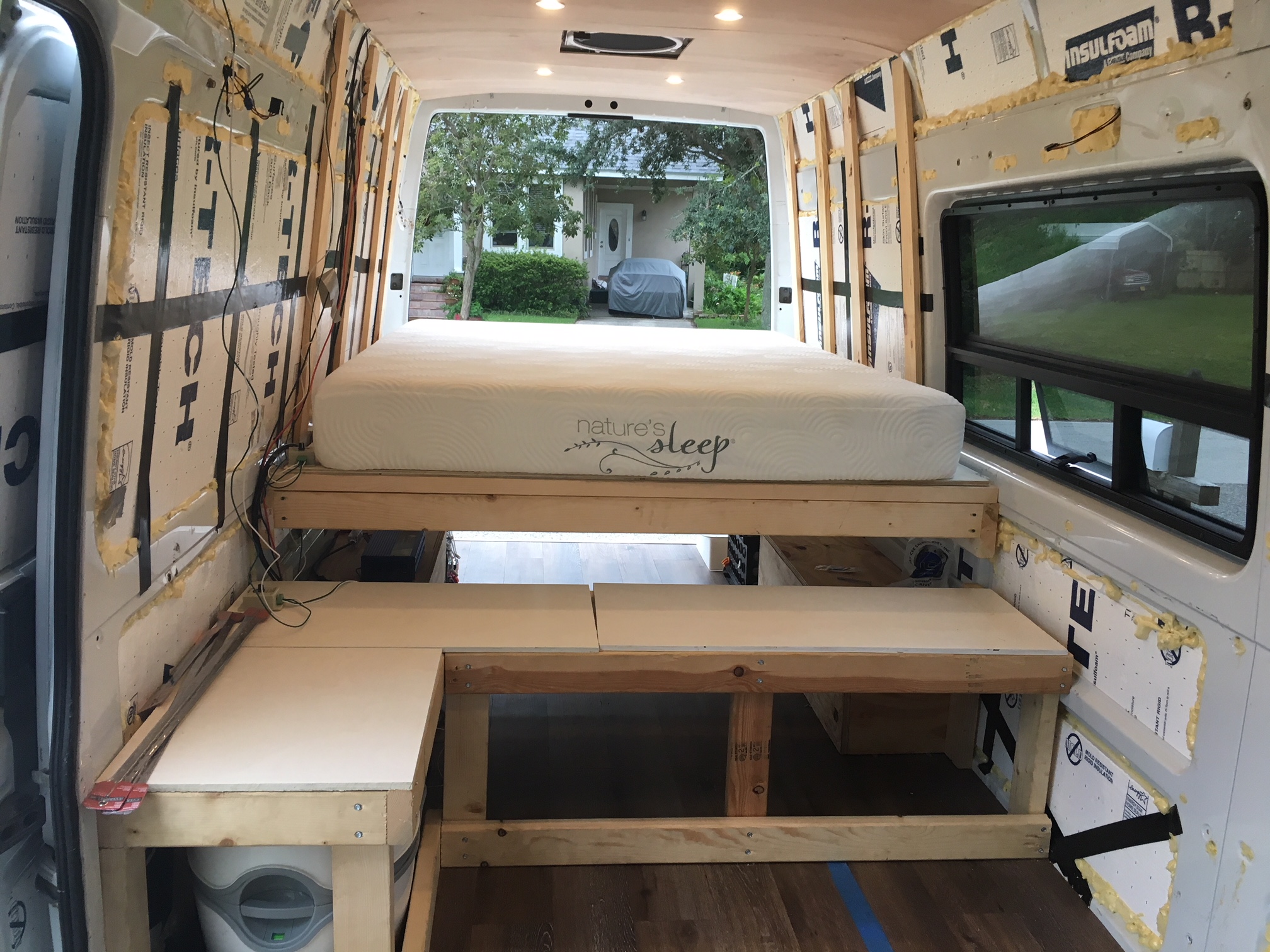 When we gave our 2 week notice to our jobs, there was no turning back and it all started to feel real. We sold just about everything that wasn't coming along for the ride, our dining table, couch, desktop computer, you name it we sold it. At first, parting with our material belongings we collected over the years was a challenge, but once we started, it became somewhat freeing and very addicting.
After our wedding we had a few things to get in order, but quickly hit the road soon after. We wanted to make it to Dallas to have Thanksgiving with family. We drove north from south Florida stopping in the Carolinas, Tennessee, and Arkansas before making our way to Texas. We have spent about a month in Texas now stopping in Dallas, Houston, Austin, San Antonio, west Texas and most importantly, Big Bend National Park which was our first National Park of many to come. It did not disappoint to say the least. We are heading west from here towards California and hoping to spend January or February in Baja.
As always, we ask our contributors to answer a few fun questions to help us better understand their love of adventure and what led them down this path. Here's Brittany + Matt!
1. Do you remember what initially inspired you to seek adventure?
We have a serious case of FOMO (fear of missing out) and the thought of life passing us by before we get to explore the world is terrifying.
My love (Brittany here) for travel started at a young age, as I was lucky enough to get to visit a lot of places with my parents growing up. When I embarked on 2 month backpacking trip to southeasst asia a few years back, that really opened up my eyes to long term travel. After that trip, I felt that I had learned so much about the world in just those two short months. So starting our marriage off by embarking on a long term adventure just seemed right. :)
 
2. Do you have a favorite destination so far in your travels?
The one place that stands out to us so far is Big Bend National Park in west Texas. It is such a special place because the land is so diverse throughout the park. We spent one night camping in the mountain tops with snow patches all around us, another night out in the desert listening to Huey howl with the coyotes , and our last night camping along the Rio Grande river with the giant canyon St Elena as our backdrop. Besides Big Bend, driving the entire peninsula of Baja California has been quite an adventure so far and we just reached Cabo San Lucas. It was important for us to experience some different culture on our trip and Mexico does not disappoint!
3. Do you have a carry on with wheels or backpack and what are the 3 things you have to have in your carry on?
Its been nice now that everything that we own is in our van, you can never forget anything. But if we had to pick 3 things we'd have are our phones (hate to say it but its true), chapstick, and Huey.
4. What's next on your bucket list?
We have sooo much left to do on our bucket list. We will be exploring the parks in the Utah, Arizona and Colorado area this spring, which we have never done. One specific thing on our bucket list is to see a show at red rocks. We are also looking forward to paddle boarding on the beautiful blue lakes in Canada!
Every day we are learning, living, and growing. Although being on the road can be challenging at times, we have never looked back or doubted our decision. This is the adventure we wanted and we couldn't be more thrilled to see what the road has in store for us next!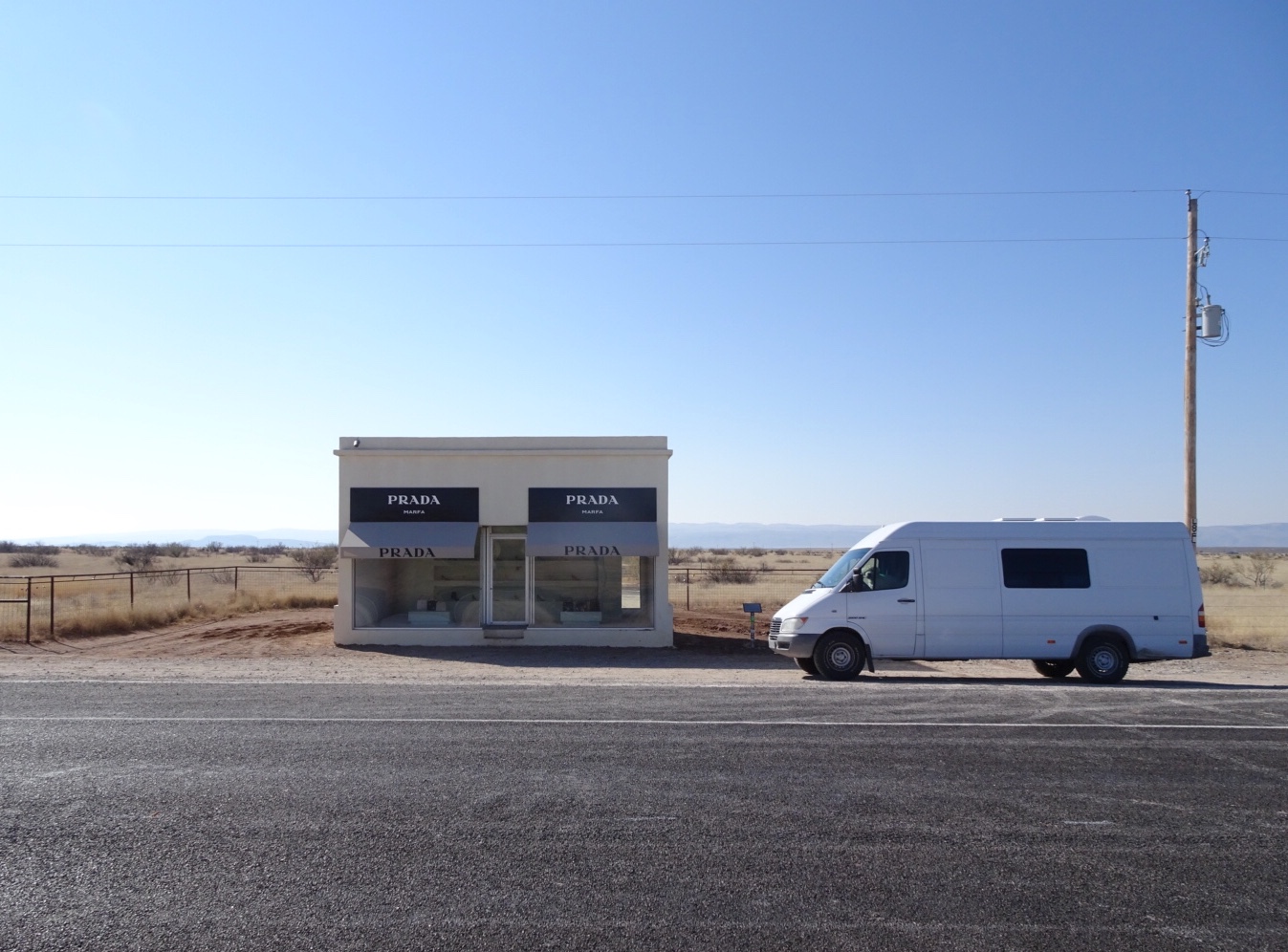 for their
amazing North American
Road Trip Adventure!
We can't wait to see where they go next!